I see your mouth moving...
... but all I hear is "tweet tweet tweet."
I have finally joined the "Twitterverse," and as some have been quick to point out - the 21st century. Follow me, and fix me up with your co-ordinates so I can cyber-stalk you for my own amusement.
In other news, it seems that my new laptop is to blame for the atrocious sound quality on my recent studio session recordings. I shall try diligently to get a new mix or two out soon. We all know that I'm looooooong overdue.
Quick link from the site soon come.
One for the ages....
Definitely the best party I've been to in a looooong time... and possibly among the best I've ever been to. Thanks so much to the Nocturnal Commissions crew, and much love to Timmy & Emily for sharing the night with us.

What really struck me was how well the headliners complemented one another.

Dave Skywalker mashed up a crazy set, with rock solid mixing. He and NC were so kind as to have me grace the mic for a bit... the crowd was just mad for it. Take a listen to some of his audio on his website - really killer mashup business!!
Slipmatt had me dancing harder than I've danced in yeaaaars. Monster old tunes. It was great to see the new generation rocking out to the 97 style classics. Walk With Your Friends FTW!!! He's a mad Twitter fiend, so follow him!
Gammer... well... honestly one of the top 10 DJ sets I've ever seen... and top 3 hardcore sets. Not only did he smash the shit out of the dancefloor, but his technical skills were incredible. Every trainspotter in the place had their jaw on the floor. Tranzit took some video of the set... here's the first one, from the start of the set...
So great to see the old bastards out. Raoul & Jen, Chris, Adam, Steve & Andrea, Katy, Paul & Christine, Jess, Nick, Adam, Rush, George, Weitom, Messy Jessie & the Ottawa crew. Nice to meet/re-meet new folks too - Snow, Holly, Caitlin, the Montreal crew, and so many others. Thanks for a great night.
One<3
- Daddy
Nocturnal Commissions - Sunday 22 May!!!
This weekend one of my favourite people in the scene is throwing one big ass wedding party. Dynamic MC, and several hundred of his closest friends are coming together for what's looking to be one of the best NC jams ever. I don't do hardcore much anymore, but for Timmy, I'll make an exception.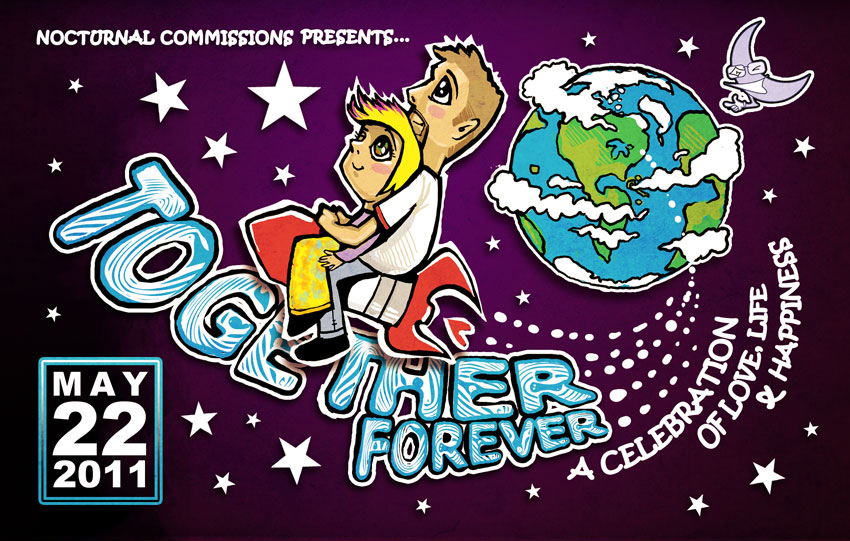 See you there.
Konkrete Jungle Ottawa
A little videoclip from Konkrete Jungle in Ottawa, March 2011. Many thanks to Christine for posting this up. The tunes in this one are Subfocus - Rock It, mixing in to Dj JePh's - Supersharpshooter remix.